Most of our equine are sanctuary or companion horses who have been neglected or abused.
Elliott
Elliott, our 30 yr old sorrel gelding gained his life of peace & love at BMRS is a most unusual way. We received a call from a gentleman who said "I just bought a house, the sellers took all their horses except one & I know nothing about horses." I told him we would try to locate a spot for this horse ASAP. The very next morning I received a call from another gentleman who inquired about a companion for them to foster as a friend for their horse who was alone. So Elliott had a new home. About a year later the foster folks personal life changed & Elliott came to live with BMRS forever. We don't know more of his history. What we do know is he is a sweet gentle guy with arthritis who's normal top speed of about 10 feet every 30 minutes, that is unless it is early morning play time with Moon.
---
Moses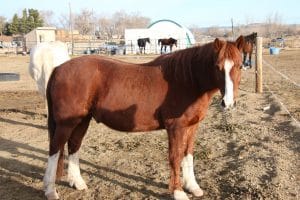 Moses is not only gentle but drop dead gorgeous. Still he is a major project. When Moses 1st arrived we knew he had been thru auction by the residue glue on his rump. It was obvious he had not been handled, was untouchable & non-aggressive but scared to death. While many fine gentle trainers have worked with him & have made progress, he remains extremely sensitive – almost as if he has some form of 'equine autism'. In our opinion he will be adoptable only to that rare soul who has an abundance of time & patience, overflows with kindness, a desire to deal with daily unpredictability, knowledge of training that approaches the style of folks like Ray Hunt & Tom Dorrace, a heart loaded with love & the approval of Moses. If that person never arrives, he will live his life here as the noble creature he is.a paragraph. Click here to add your own text and edit me. It's easy.
---
Selena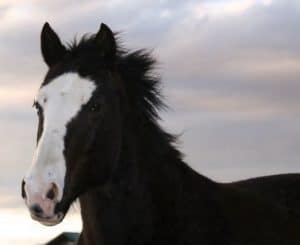 Selena is a 20 years old registered solid paint who came from a PMU farm in ND. Somewhere in her life she lost about a third of the tip of her tongue & has an old injury to her right shoulder. To the best of our knowledge she had never been ridden. We worked with her gradually & though she is gentle as can be on the ground she can be flighty if spooked. Suddenly after a few rides, she began bucking like she just came out of a chute at a rodeo! With this history, we do not feel she is rideable. Selena has been a gentle girl with our visitors. She played foster mom to Moses when he was still a little guy. Those bonds between sentient beings must be acknowledged & respected when at all possible.
---
Flower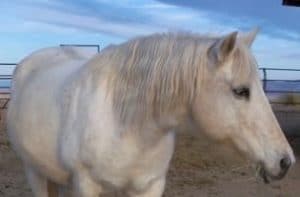 Flower is a beautiful 'stout' part Appaloosa cremello mare who was originally saved at auction by another rescue. At that time we are told she was about 300 pounds under weight, pregnant with a baby by her side & had abscessed feet. (This may explain sprung ribs from pregnancy… just like mine LOL) Both of her babies were eventually adopted. Flower was very defensive at first, biting & kicking but over time became kind & trusting of her caregivers. They were told someone used her as a bucking horse. Now she is pretty easy to fall in love with. She was adopted out twice by the other rescue & for whatever reason was returned. While she is the mare in charge, especially with food, she has become a docile sweetheart with people & loves to be loved. Twice in the last 6 months there were people wanting to adopt her as a companion. Then for some unknown reason, Flower suddenly showed 'lameness'. She is not rideable except by lightweight kids who can just be led around the yard or pen.
---
Callie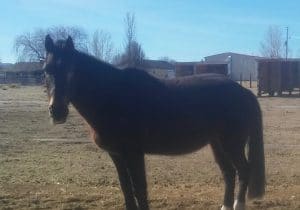 Callie a tall mid-twenties mare we were told was headed for slaughter 4 years ago in Montana. Later the folks who rescued her moved to AZ & fell on some hard times making her care difficult for them. In early Nov. 2017 they surrendered her to BMRS. Her name was Cassie when she arrived. We recently lost a big dark bay Thoroughbred named Allie who she reminded me of in many ways. Thus, inadvertently 'Cassie' became 'Callie'. Tho she is solid dark bay, Callie is actually at least part Appaloosa. Her feet were in need of work which she is getting, Dr Fisher said it looked as if her teeth had never been done & she was pretty thin. Now on soaked pellets, rolled oats & Cool Calories she has gained enough weight that her ribs are no longer visible. She was a bit distant at first but is warming up a little more each day. Being a non-aggressive easy keeper, Callie would make a kind companion for any lonely solo steed.
---
Moon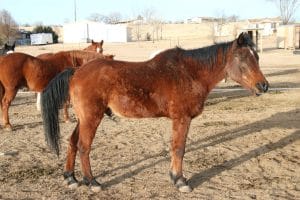 Moon, our bay Arabian prince is one I refer to as our Wal-Mart greeter. He is the most welcoming to new herd members of all the others. At about 30 years old he does rank a bit over some others, especially among the older horses. Moon has a fair amount of arthritis in his hind legs but most of the time does well with turmeric & MSM & on cold mornings he & Elliott play pretty hard anyway. He came to another rescue about 12 years ago when the owner apparently dropped him off, said he was crazy & threatened to shoot him if they didn't take him. It is obvious to us he is not crazy, but playful. He was adopted out about 8 years ago but was severely allergic to something in the dessert so was returned to the higher elevation for his comfort. Now he is here at BMRS to live his life in peace.
---
Gracie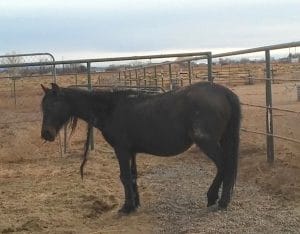 Gracie is BMRS' first ever mother-to-be! She is a very dark bay, only about 13 hands with a long dread hanging off her mane. We do not know how old she is or when she is due. She came to us via another rescue group 11/29/17 from a feedlot in NV. We were told she was headed for slaughter along with 8 other future mamas. Before being rounded up for the feedlot Gracie was living wild on the range somewhere in NV. It is obvious she has never been handled by humans as at this point she is untouchable & very frightened, though she now knickers every morning when she see us. We hope by the time she deliver, she will trust us enough so can handle her should she have a difficult delivery. If not we will have to let Nature decide.
---
Sammy, Chica, Valentine, & Princess.. more coming soon.